At Nrg Xpress Gym & Studios
Noelle Kiely
Managing Director
Noelle is the owner/ founder of the NRG health and fitness brand. She has years of experience in the recreation and leisure industry . Noelle has a keen interest in all things sport, fitness and health associated. She is constantly keeping up to date with upcoming, new and existing exercises and techniques that have broke into the fitness industry in the past few years.
Jacinta McCarthy
Manager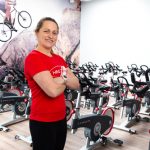 Born and reared in West Cork. Always had a love for every sport growing up. After finishing her Leaving Certificate, Jacinta went on to do sports management at Coláiste Stiofain Naofa, Cork. Here she completed 3 years of Recreation and Leisure Management and became qualified in many aspects of the sporting world. She then went on to personal train and gym instruct in NRG Health & Fitness Cork City. Jacinta spent 2 and a half years here before travelling to Australia and many more countries along the way. When she returned she began work in NRG Health and Fitness in Bohermore, Galway where she spent 4 years working.
On the opening of NRG Xpress she returned to Cork to manage our new location here in Little Island, and here he love for fitness continues.
Jacinta's qualifications include NCEF Level 1, NCEF Personal Trainer, Sports Nutrition FETAC Level 5. Jacinta teaches several classes here at NRG Xpress, Little Island including Spinning, Pilates, TRX, Piloxing, Strength & Conditioning, ZUU,Body Pump, Kettlebell and Kids Gymnastic.
Jacinta has trained and completed a lot of adventure including climbing Kilimanjaro in Tanzania, completing the Bull Run in Pampdona, Nevis bungee jump in New Zealand, Skydived 15000m and solo skydived 3000m. She also got her PADI in the Great Barrier Reef in Australia.
Her love for sport and fitness continues through her classes here at NRG Xpress, to see our NRG Xpress Class Timetable Click here
"You never stop learning and if you do it's time for change"
Peter Thornton
Assistant Manager/ Personal Trainer/ Fitness Instructor
Peter's  qualifications, include a MSc. in Public Health & Epidemiology & a BSc. (Hons) Degree in Health & Exercise Science. Peter is also Certified & Accredited by the European Health & Fitness Association (EHFA) in varies disciplines such as; Personal Training, Group Fitness Instruction, Adaptive Physical Activity (Older Adults, Youth, Disabilities) & Clinical Exercise Referral. He has a keen interest in sports, especially soccer, strength and conditioning, hiking, adventure racing and more.
Peter teaches several classes here at NRG Xpress including Spinning, Circuits, TRX, Kettlebells, Boxercise, Boot camp, and Ab attack/Core stability.
Erin O'Leary
Nutritionist
Erin O'Leary holds an honours Degree in Nutrition and Health Science and has experience in making detailed diet plans.
She has experience weight loss, food intolerance's, diabetes, celiac disease, PCOS, IBS and IBD, under active thyroid, macular degeneration, weight gain/muscle gain and much more. With these programmes you will receive:
     An initial one to one consultation with your Nutritionist in which you will discuss your goals, diet and lifestyle, daily activity levels, water intake, food likes and dislikes along with full measurements.
     A detailed, tailored diet plan for 6 weeks post your initial consultation
     Weekly meet ups with your Nutritionist to track progress (weigh in, re-taking of all measurements) and adjust diet plans accordingly
     Constant access to your coach to help keep you motivated and on track
     Exercise advise and Tips
A combination of a healthy diet and exercise has nothing but a 100% success rate!
Here at NRG we pride ourselves in helping our members achieve their goals!
Niamh Punch
Personal Trainer/ Fitness Instructor
Front Desk/ Sales
Ian O'Sullivan
Personal Trainer/ Fitness Instructor