At Nrg Xpress Gym & Studios
Noelle Kiely
Managing Director
Noelle is the owner/ founder of the NRG health and fitness brand. She has years of experience in the recreation and leisure industry . Noelle has a keen interest in all things sport, fitness and health associated. She is constantly keeping up to date with upcoming, new and existing exercises and techniques that have broke into the fitness                                                             industry in the past few years.
Jacinta McCarthy
Manager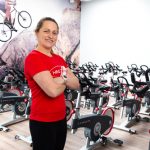 Born and reared in West Cork. Always had a love for every sport growing up. After finishing her Leaving Certificate, Jacinta went on to do sports management at Coláiste Stiofain Naofa, Cork. Here she completed 3 years of Recreation and Leisure Management and became qualified in many aspects of the sporting world. She then went on to personal train and gym instruct in NRG Health & Fitness Cork City. Jacinta spent two and a half years here before travelling to Australia and many more countries along the way. When she returned she began work in NRG Health and Fitness in Bohermore, Galway where she spent 4 years working.
On the opening of NRG Xpress she returned to Cork to manage our new location here in Little Island, and here her love for fitness continues.
Jacinta's qualifications include NCEF Level 1, NCEF Personal Trainer, Sports Nutrition FETAC Level 5. Jacinta teaches several classes here at NRG Xpress, Little Island including Spinning, Pilates, TRX, Piloxing, Strength & Conditioning, Pump, Kettlebell and Kids Gymnastics.
Jacinta has trained and completed in a lot of adventurous activities including climbing Kilimanjaro in Tanzania, completing the Bull Run in Pampdona, Nevis bungee jump in New Zealand, Skydived 15000m and solo skydived 3000m. She also got her PADI in the Great Barrier Reef in Australia.
Her love for sport and fitness continues through her classes here at NRG Xpress, to see our NRG Xpress Class Timetable Click here
"You never stop learning and if you do it's time for change"
Ian O'Sullivan
Personal Trainer/ Fitness Instructor
Ian has worked for NRG Xpress for over 6 years now doing Personal Training as well as many classes such as spinning, circuits and core classes. Ian is a very passionate employee who values customer care above everything else and this is reflected in the great relationship he has with the                                                                             customers here at NRG Xpress.
Nicola Waites
Sales & Marketing
Nicola has worked as a Receptionist for the past 16 years and has worked as a Sales & Marketing Administrator in the Fitness Industry for the past 12 years. Nicola believes that Good Customer service is very important and she always strives to provide this to all members…..
"Make every interaction count, even the small ones. They are all relevant". 
Will Heffernan
Sales & Marketing
 Darragh McCarthy
 Gym Instructor / Personal Trainer
Darragh has recently joined our team here at NRG Xpress. After completing his Leaving Certificate, Darragh went on to study Personal Training and Sports Massage. He has been working in the Industry for the past 3 years. Darragh's classes include, Kettlebells, Spinning, Bootcamp, Circuits etc…He is very passionate about the fitness industry aswell as his own fitness, attending the gym 4-5 times a week….If you would like to book any Personal Training sessions with Darragh you can contact him at darragh@nrgfitness.ie