As the weather continues to get colder, our bodies are craving something hot, wholesome and nutritious to keep us going through the winter months.
This sweet potato and chickpea curry is a firm staff favourite here at NRG Xpress. We whip a big pot of this up at the start of the week and it keeps us going throughout. Full of flavoursome spices this nutritious dish is perfect for the cold weather. Add chicken to get some extra protein in!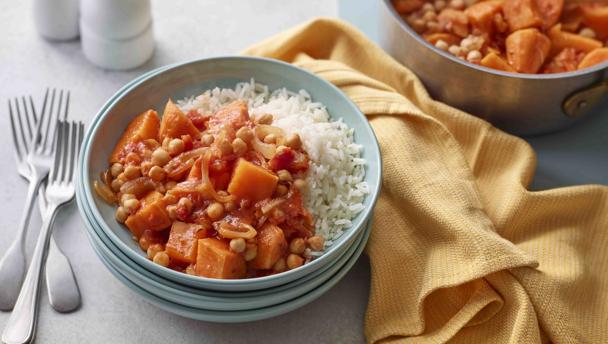 Ingredients
Method
Heat a large saucepan over a medium heat and add the oil. Once hot, add the cumin seeds and fry for a minute, or until aromatic. Add the onion and a pinch of salt and cook for 5-6 minutes, or until the onion is soft and translucent. Add the garlic, chilli flakes and ginger and fry for a further three minutes.

Drain and rinse the chickpeas. Add to the pan with the tomatoes and sweet potato. Add enough water (approximately 500ml/18fl oz) to cover the chickpeas and sweet potatoes and bring to a simmer, stirring to mix everything together.

Cover with a lid and simmer over a medium low heat, stirring now and again, for 30-40 minutes, or until the potatoes are soft and beginning to break apart and the sauce has thickened. Top up with a little more water during the cooking if needed.

Meanwhile, cook the rice according to the packet instructions.

Taste the curry and season to taste with salt and pepper. Serve immediately with the rice.